I wanted to take this opportunity to introduce myself (and by extension, my family). My hope is that this may fill in some of the gaps about me that my storytelling format of preaching may have left out.
I was born and raised in southern California, in a small city called La Palma, in Orange County, about 30 minutes (now) from Disneyland. I am the oldest of three children and have two younger brothers, both still live in La Palma, with their wives and children. In January of 1986 I moved to Ohio to attend Franciscan University of Steubenville and was blessed to meet my husband of 26 years, Matt. In the fall of 1990 Matt and I moved to Columbus so that Matt could attend Trinity Lutheran Seminary (he did not complete) and I could work in child welfare as a social worker. I continued as a social worker for 11 years - working in various locations.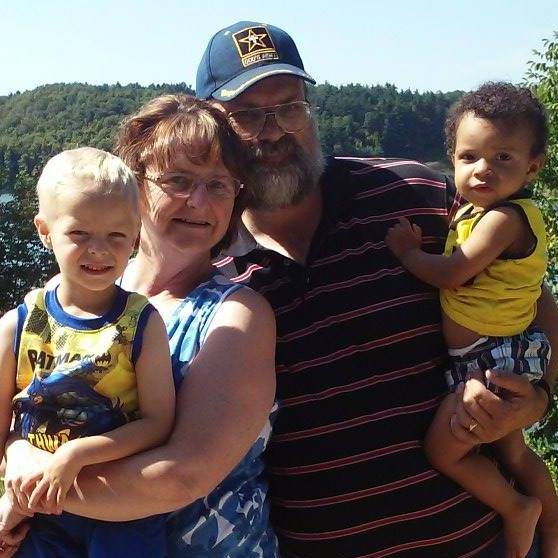 In 1997 Matt's father became ill so we made the move to Perrysville to be closer to him. During this same time we had been trying to start a family and after trying unsuccessfully for many years to have children of our own, we chose to explore adoption. We had also welcomed several teenage boys into our home through the foster system. Once we made the decision to begin the adoption process we were discouraged to learn that our work in the child welfare system disqualified us for adopting through this same system, so in 2000 I made the decision to resign from social work, and we were able to adopt our son, Mitchell, at the age of 11. During this time Matt was working for the Dept. of Youth services -the juvenile felony prison system.
I was raised Roman Catholic, attending parochial school through my elementary, high school, and even undergraduate years. While I had struggled at various times with some of the doctrine, I was always comforted by thinking that the Catholic Church allowed for people to respectfully disagree with some of the secondary doctrines. One Christmas day in the mid-1990's, my dear Lutheran husband presented me with a copy of the new Roman Catholic catechism. I was amazed to find out that Catholic theology does not allow for such disagreements, and that I was holding heretical beliefs that could very well land me in hell.
I struggle with belong to an organization that could not allow for some differences in good conscience, so I went looking to find where in the body of Christ was a good fit for me. I spent a number of years exploring and studying different denominations, and finally read the Book of Concord, the theological statement of the Lutheran faith. I met with a pastor for over a year, and in1999, became a Lutheran.
It took a long time after that for God to convince me He wanted me in pastoral ministry, and it took over 32 various people, in different settings, to suggest that this was God's idea, and for me to begin seminary. I attended Ashland Theological Seminary for 5 years before earning my Masters of Divinity. During that time, I spent 2 ½ years completing a part-time internship at Zion Lutheran Church in Huron, Ohio.
Since 2007, I have served at a number of churches, of different denominations, throughout Ohio, for varying lengths of time. A few of them have been 1 or 2 Sundays for pulpit supply. Several have been for a few months to a couple of years. In addition to serving in pastoral roles, I earned a second master's degree in 2012 from Ashland Seminary, in Christian Clinical Counseling, making me eligible to receive licensure as a Clinical Counselor; though I have yet to take the test. I also worked for a few years at Ashland Seminary as the assistant to the Director of Contextual Education (internships).
Obviously, this is only a brief summary of these last 52 years. As we spend time together over the next months and possibly years, I hope and pray that this opens up conversations among us, not only about the "facts" of our histories, but also how God has shown Himself in amazing and wonderful ways. I look forward to our journey together.
In Christ - Pastor Jean